----------------------- June -------------

Thursday 1st June 10am-12noon, and 2-4pm
Butterflies hunt at Royden Park
Go on your very own butterfly hunt. Then head back to the coach house for fun butterfly art and crafts activities.
*Booking essential* - £3 per child
Please phone the Rangers' office on: 0151 677 7594 or email midwirralrangers@wirral.gov.uk

Sun 4th June 11am - 5pm
Open garden at 24 Old Greasby Road
A multi-interest and surprising suburban garden. Both front and rear gardens incorporate innovative features designed for climbing and rambling roses, clematis, under-planted with cottage garden plants with a very productive kitchen garden.
Admission £3.50, children free. Home-made teas.
More details at www.ngs.org.uk/find-a-garden/garden/33959

Sunday June 4th 2-4pm
Wirral Symphonic Wind Band
Bands in the Park
In the Upper Park Arena at Ashton Park, West Kirby
Bring a brolly and a blanket
Admission free but donations welcome
www.ashtonpark.btck.co.uk


Tuesday 13th June 7.15pm
RSPB Burton Mere Wetlands - Home for Birds and Wildlife
A talk at Burton Manor Gardens given by Dan Trotman. Costs £8 or £6.50 for friends of Burton manor Gardens and includes tea/coffee and biscuits. Please book as soon as possible as places are limited. www.burtonmanorgardens.org.uk

Wednesday 14th June at 2pm
'What Was On The Telly?' An illustrated talk by Barry Humphreys
West Wirral Family History Group
Westbourne Community Centre, Westbourne Road, West Kirby, CH48 4DQ
Visitors welcome, £2.00 including refreshments
... [click here for more info]

Wed 14th June 7.30pm
Heswall Hall Cinema presents "Lion" (PG)
Lion, the true story of Saroo, ayoung boy who gets lost thousands of...
www.heswallhall.co.uk/whats-on-at-heswall-hall/upcoming-events/219-heswall-hall-cinema-presents-lion-pg.html

Friday 16th June, doors open 7pm
Kopanakis + Over the Water, Amber Opiate, Jonny Holmes
In Aid of Clatterbridge Cancer Charity
At West Kirby Arts Centre, 29 Brookfield Gardens, West Kirby CH48 4EL. Parking at The Concourse - 5 minutes walk.
Tickets £4 from www.westkirbyartscentre.org.uk/product/kopanakis-water-amber-opiate-jonny-holmes-16617

Saturday 17th June 10am to 3pm
Heswall Farmers' Market
Third Saturday of every month
www.facebook.com/HeswallFarmerMarket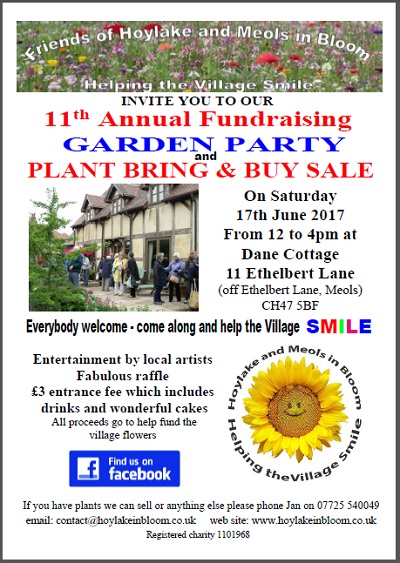 Saturday 17th June 12 to 4pm
The Friends of Hoylake and Meols in Bloom Annual Garden Party
At Dane Cottage, Ethelbert Lane, Meols. CH47 5BF
To raise funds for the floral displays throughout Hoylake and Meols. There will be a large plant bring and buy sale of locally grown plants, live music by local artists, a great raffle and as much coffee and cake as you would like.
If you have any plants we could sell, do please contact Jan on 07725 540049
Do come along and enjoy the lovely atmosphere of the Garden Party now in its 11th year.

Saturday 17th June
Family activity packs at Royden Park.
Does your family love to explore nature?
Do your children want to find out what lurks beneath a log or hides in the hedgerow? Then why not become a nature detective for the day!
As a family you can now hire a family activity pack to help you explore the sights and sounds of nature. Each pack contains fun and engaging activities for all the family to enjoy.
Simply pick up your pack from the rangers office and get exploring!

Saturday 17th June, doors open 7pm
The Good Intentions + Jimmy Rae & The Moonshine Girls
At West Kirby Arts Centre, 29 Brookfield Gardens, West Kirby CH48 4EL. Parking at The Concourse - 5 minutes walk.
Tickets £8, advance booking £6, from www.westkirbyartscentre.org.uk/product/good-intentions-jimmy-rae-moonshine-girls-17617

Saturday 17th June 7.30pm
Love Songs
Birkenhead Choral Society will be performing Love Songs (Music of Lennon & McCartney, Shearing and Rutter)
At St Saviour's Church, Oxton. Tickets £10, (Under 19s free)
Contact 0151 638 6469 for details
www.birkenheadchoral.org

Sunday June 18th
Seal Watching on Hilbre Island
Leave West Kirby after 10.30am
Leave Hilbre before 3.30pm
The Friends of Hilbre will staff the old telegraph building and will offer seal watching with the telescope (weather permitting).
*At all other times check the times of the tides, and always use the safe crossing route.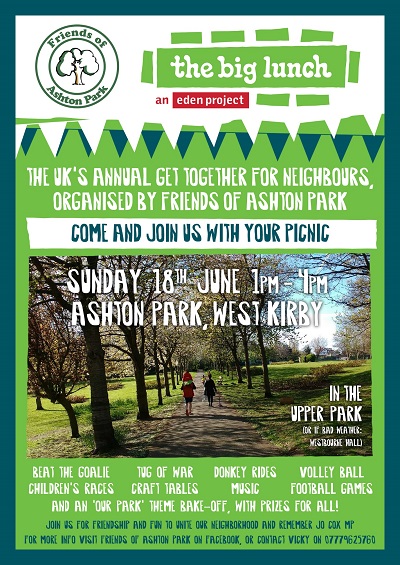 Sunday 18th June from 1pm to 4pm
Big Lunch event in Ashton Park
The Big Lunch has been held in the UK since 2009 where the aim is to get as many people as possible across the country to have lunch with their neighbours in a simple act of community, friendship and fun.
A few months ago on the radio, the husband of Jo Cox MP when interviewed explained that he would like to get 10 million people sitting down to the 'Big Lunch' in memory of his wife, saying that he did not want the anniversary of her death to be about mourning and everybody being depressed, but an event that captures her energy and brings communities together.
After recent events in Manchester, now more than ever it would be good to get together as a community, so please do come and join us with your picnic in the Upper Park. Mary Berry may not be there, but you could win one our Bake-Off prizes, or just join in all the fun and games!
If the sun doesnt shine it will still go ahead at Westbourne Hall. If you want any more information about the event, or youd like to get involved, please contact Vicky Gawith on 07779625760.


Friday 30th June 7.30pm
The Diving Bell and the Butterfly
A Hoylake Community Cinema film, at Hoylake Parade
A true story about the memoir of Jean-Dominique Bauby, editor of popular French fashion magazine Elle, who despite suffering a massive stroke leading to 'locked in syndrome', managed to write his own memoirs before he died. Several critics considered it to be one of the best films of its decade.
Licensed bar, fresh food. Doors open 6.30 & film 7.30pm
For more details or to book visit www.hoylakecommunitycinema.co.uk

----------------------- July -------------
Sunday July 2nd
Seal Watching on Hilbre Island
Leave West Kirby after 10.30am
Leave Hilbre before 3.30pm
The Friends of Hilbre will staff the old telegraph building and will offer seal watching with the telescope (weather permitting).
*At all other times check the times of the tides, and always use the safe crossing route.


Thursday 13 July 7pm
Songs of joy and sadness from the time of Shakespeare with lutes and other early instruments
Espérance - Clare Devine (soprano), Stewart McCoy (lute)
West Kirby Arts Centre, 29 Brookfield Gardens, West Kirby CH48 4EL Tickets £6.
A West Kirby Arts Centre Event
www.westkirbyartscentre.org.uk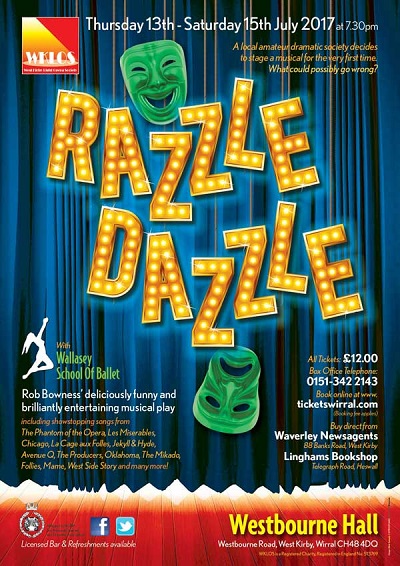 13th, 14th and 15th July, 7.30pm
WKLOS present a musical play Razzle Dazzle
At Westbourne Hall, West Kirby
"A deliciously funny and brilliantly new entertaining musical play". A local amateur dramatic society decide to stage a musical for the first time. What could possibly go wrong? Featuring hit songs from Les Mis, Phantom, Mame, Oklahoma and many more.
07795 148140
www.wklos.org.uk

Friday 14 July 7.30pm
Craig Ogden
Summer Guitar Recital
Hoylake Chapel, Station Road, Hoylake, CH47 4AA
Tickets: £12, Children (18 and under): £8 - BOOK HERE www.festivaloffirsts.com/product/craig-ogden
A Festival of Firsts Event www.festivaloffirsts.com

Friday 14th July 8:30pm - 10:30pm
Bat and Owl Walk
Join the Rangers for an evening walk around Royden Park to discover more about these nocturnal animals.
Sorry no dogs are allowed at this event.
Where: Meet at the coach house
*Booking essential* - £3 per person. Please phone the Rangers' office on: 0151 677 7594 or email midwirralrangers@wirral.gov.uk

Saturday 15th July 10am to 3pm
Heswall Farmers' Market
Third Saturday of every month
www.facebook.com/HeswallFarmerMarket

Saturday 15 July 2-3pm
Hoylake Carnival Parade
Wirral past & present
From Hoylake Roundabout to Queen's Park
2.00 - 3.00pm Free
A Festival of Firsts Event www.festivaloffirsts.com


Thursday 27 July 8pm
Islands of Ice, Fire and Wind
Birding life of Iceland and Shetland, by Jeremy Bradshaw
A Wirral Bird Club meeting
At Kingsmead School Hall, Hoylake, CH47 0LL.
Visitors welcome, £4 including refreshments
... [more details]

Friday 28th July 7.30pm
Ice Cold in Alex
A Hoylake Community Cinema film, at Hoylake Parade
Licensed bar, fresh food. Doors open 6.30 & film 7.30pm
For more details or to book visit www.hoylakecommunitycinema.co.uk

Sat 29th July 10:30am - 2pm
Marine Week Red Rocks Event
Come and celebrates the start of National Marine Week with Cheshire Wildlife Trust, by exploring Red Rocks wildlife. Activities will include beach clean and beach art activities, butterfly hunt, guided bird and natterjack toad walks, plants of Red Rocks walk.
More information at www.cheshirewildlifetrust.org.uk/events/2017/07/29/marine-week-event

Monday 31st July 10 to 11:30am or 1 - 2:30pm
Ladybird hunt. (Family event)
This event is suitable for children aged 3-5. All children must be accompanied by an adult.
Where: Meet at the coach house
*Booking essential* - £3 per child which includes their lunch. Please phone the Rangers' office on: 0151 677 7594 or email midwirralrangers@wirral.gov.uk

Mon 31st July 10am - 4pm
Hilbre Island Walk
This is a popular trip for families, with Cheshire Wildlife Trust. There will be a separate walk for adults without children in September. The walk is ideal for children and families and will include a seaside scavenger hunt, rock pool dipping, bird and seal watching.
Cost £10. * Booking essential - see www.cheshirewildlifetrust.org.uk/events/2017/07/31/hilbre-island-walk